The former Biden administration tried to end the Trump-era policy that made asylum seekers wait in Mexico while their cases were heard in US immigration court. A federal judge blocked the plan.
It was a sad day for those who advocate for open borders after a federal judge prevented the Biden administration from implementing the Trump-era policy.
According to the Western Journal, a federal judge on Thursday temporarily blocked the former Biden administration's plan to end a Trump-era policy that involved requiring asylum seekers to wait in Mexico.
Although the judge prevented the implementation of the policy, he did not reinstate the so-called "Remain in Mexico" policy. US District Judge Matthew Kaschmaryk in Texas decided to stay the policy's termination while the legal challenges by Missouri and Texas are resolved.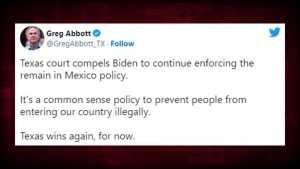 Texas governor Gregg Abbott tweeted in response to the federal ruling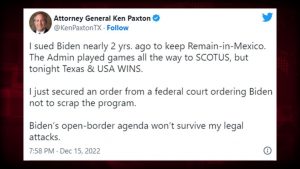 State Attorney General Ken Paxton of Texas also praised the judge's ruling. He noted that he had sued the former Biden administration two years ago to prevent it from implementing the policy. He said that the ruling prevented Biden from carrying out his open-border agenda.
Many Republican members of Congress criticized the former Biden administration's southern border policy.
According to a report by the Daily Caller, several Republican members of Congress from Texas unveiled a plan aimed at securing the border.
The members of Congress, including Chip Roy and Dan Crenshaw, said they would like to fix the federal policies that prevent illegal immigrants from being released. According to them, the plan would allow US Immigration & Customs Enforcement to target more people who are living in the US illegally. In fiscal year 2022, the agency encountered over 2 million migrants at our southern border.
The members of Congress also noted that the former Biden administration had limited the number of people who were apprehended by ICE to those who pose threats to national security or the safety of Americans.
During a recent interview, Congressman Dan Crenshaw discussed the issue of the southern border. He also proposed legislation aimed at addressing the issue.
It looks like Biden failed in his attempt to end the Trump administration's policy known as the "Remain in Mexico". The judge who issued the restraining order, Matthew Kacsmaryk, also decided to stay the implementation of the policy while the legal challenges from Texas and Missouri are resolved. It's clear that we need Donald Trump to lead the way in securing the border.
To all of our supporters, let's go and remind ourselves why we picked Donald Trump in 2016. He is a champion for American values and safety.
The preceding is a summary of an article that originally appeared on Next News Network.