Martin Shkreli, the infamous "Pharma Bro" who gained national notoriety after raising the price of a life-saving prescription by more than 5,000 percent overnight, has been freed from jail early and will serve the balance of his term in a New York halfway house, according to several publications.
The Federal Bureau of Prisons told NBC News that Shkreli has been transferred to a "community confinement" programme, which is similar to a halfway house. He was supposed to be released from federal custody on Sept. 14 due to excellent behaviour and enrollment in rehabilitation programmes, according to reports.
"I am glad to inform that Martin Shkreli has been freed from Allenwood prison and transferred to a BOP halfway house after completing all programmes that allowed his his sentence to be shortened," his attorney said in a statement.
The egotistical former pharmaceutical investor has been serving a seven-year federal prison sentence in Pennsylvania for three securities fraud charges resulting from his acts as the head of a hedge fund and pharmaceuticals company for about four years. As reported by The Blaze website.
Shkreli himself acknowledged his release with a typically smug Facebook post on Wednesday morning.
"Getting out of real prison is simpler than getting out of Twitter prison," he added, referring to his Twitter ban, which he received in 2017 after harassing a female journalist.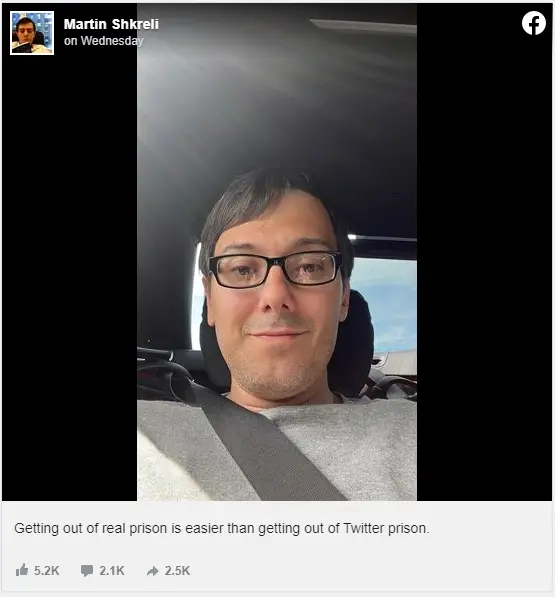 Edmund Sullivan, Shkreli's acquaintance, is believed to have taken the convicted fraudster from prison. Following the release, he tweeted a photo of the two happy in a car, writing, "I picked up this hitchhiker guy. He claims he's well-known person as well as hated at the same time."
After purchasing the exclusive rights to the anti-parasitic medicine Daraprim in 2015, Shkreli soon became America's most reviled figure, raising costs from $13.50 per pill to $750 per pill.
Daraprim was the sole FDA-approved treatment for toxoplasmosis at the time, a life-threatening illness that can cause major health problems in pregnant women, their newborns, and persons with weakened immune systems due to cancer, HIV/AIDS, or other conditions. Generic versions of the tablet were finally available in 2020.
While in prison, Shkreli was found guilty of illegal monopolistic activity by a federal judge in Manhattan, in addition to his fraud convictions.
As a result of his conduct, the judge barred Shkreli from the pharmaceutical industry for life and ordered him to repay more than $64 million in gains he made by raising the price of Daraprim.
"Shkreli's flagrant, purposeful, persistent, long-running, and ultimately dangerous illegal conduct requires imposition of an injunction of this magnitude," Judge Denise Cote found in her judgement.