After mainly ignoring claims that the former Hillary Clinton campaign lawyer lied to the FBI, the dishonest corporate media eventually decided to report the trial findings after it became clear that Sussmann would be acquitted.
The Sussmann trial began in mid-May, as Special Counsel John Durham's investigation into the Russia collusion hoax gained momentum. However, the same media sources that spread the Clinton campaign's Russia claims purposefully disregarded Sussmann's role.
Despite their history of obsessing over the flawed Steele dossier, ABC News, NBC News, CBS News, and MSNBC remained entirely mute on the topic.
CNN referenced the trial briefly but devoted less than 10 minutes covering it over the course of five days. According to Fox News, "none of CNN's coverage has come during primetime," when the network enjoys a substantial increase in viewing.
Elon Musk, CEO of Tesla and Twitter takeover candidate, noticed the media's silence as vital facts concerning the Clinton campaign's role in targeting Donald Trump's presidential run became clearer than ever.
"Why is @abcnews ignoring this story?" he asked on Twitter.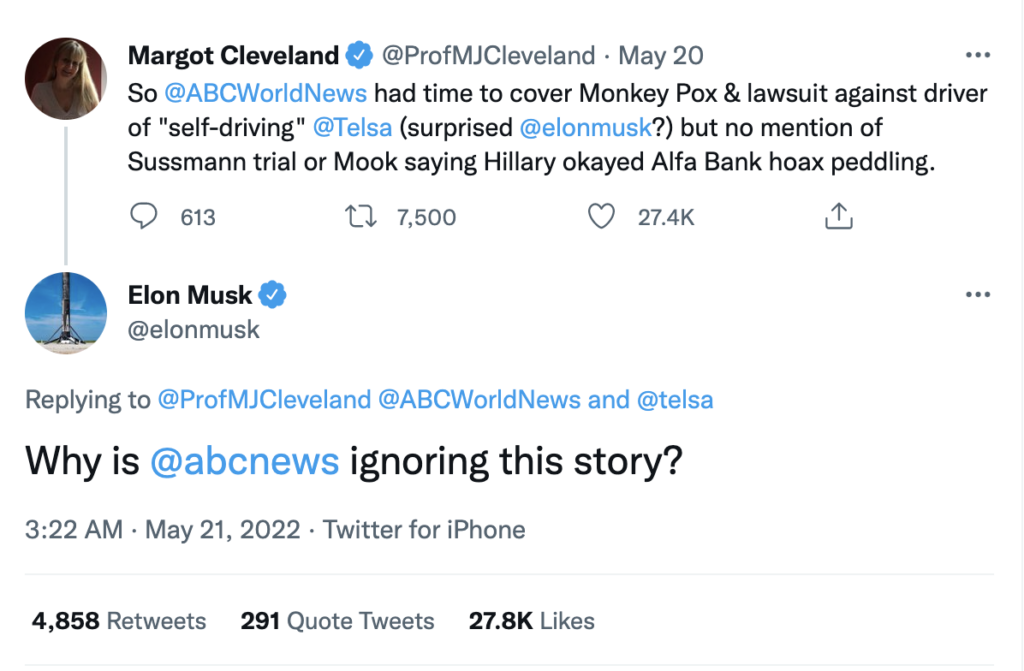 After a D.C.-based jury and judge with ties to Sussmann and the Clintons acquitted the Democrat, the same corporate media mouthpieces who were unsurprisingly silent when the trial began have spoken out about why they believe the choice to acquit was correct.
"Sussmann not guilty," tweeted Harry Litman, a legal affairs journalist for the Los Angeles Times and a former Justice Department official. "Extremely fast verdict. more or less total humiliation for Durham. Jury presumably recognized the picayune pettiness of the case."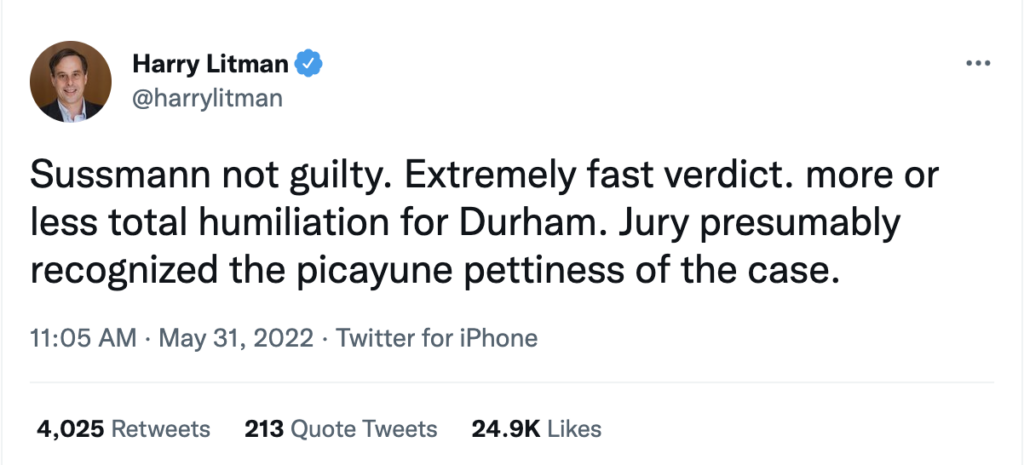 Many of them used the verdict to suggest that the Durham probe was organized by Trump and to minimize their own responsibilities in spreading the Russia collusion lie.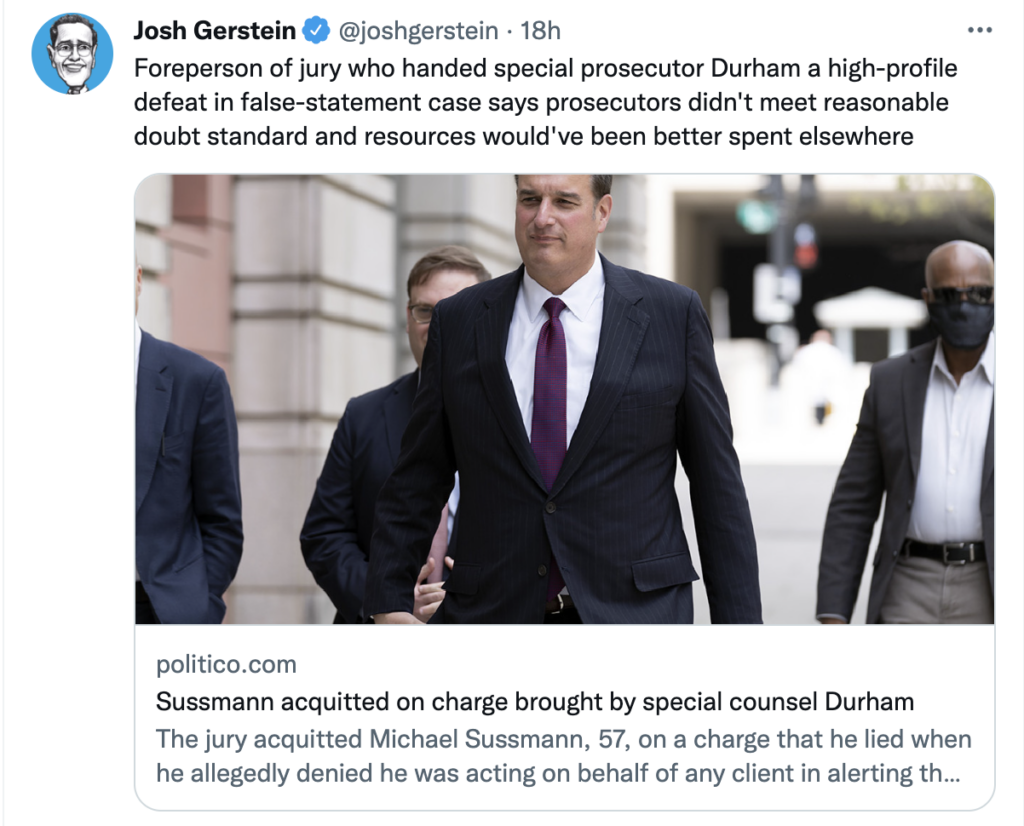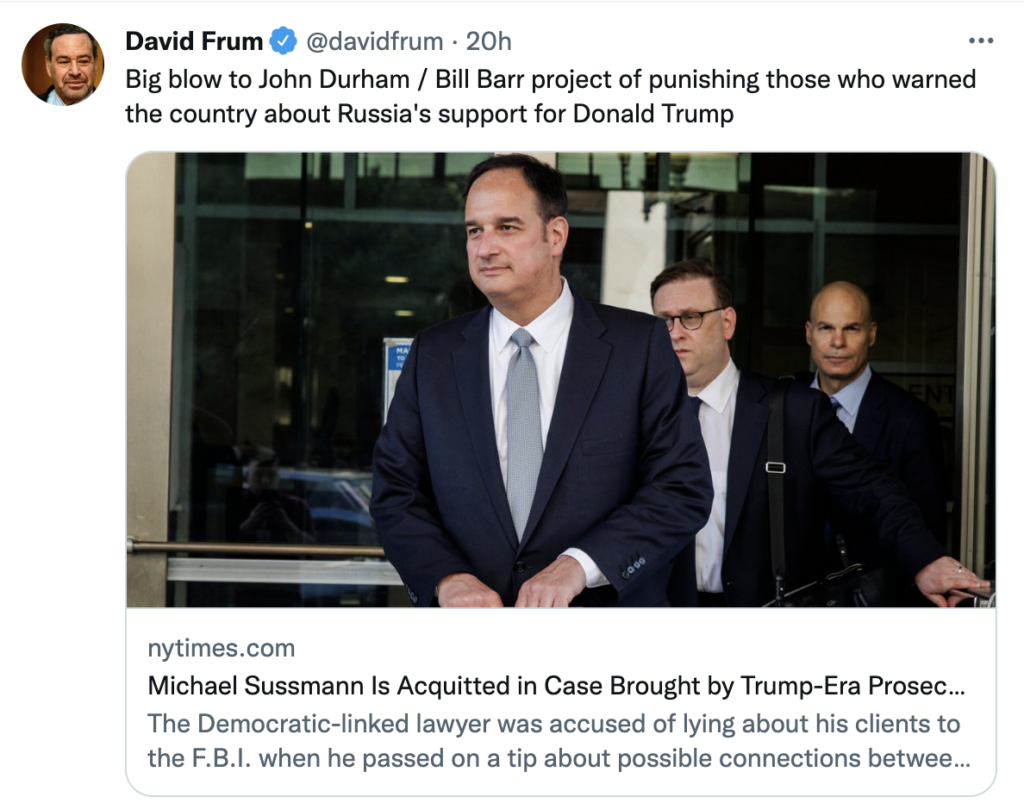 Following Sussmann's acquittal, one Washington Post editorial writer called the trial "a clever effort to try de-Putinize Trump."
Despite the media's efforts to portray Sussmann's trial as meaningless, Durham's criminal charges against the lawyer supplied the public with critical information confirming Clinton's influence in the 2016 election.
"United States v. Sussmann exposed that Hillary Clinton holds full responsibility for the Russia collusion hoax," noted Federalist Senior Legal Correspondent Margot Cleveland in her review of the trial.
The preceding is a summary of an article that originally appeared on The Federalists.